
Print Ads, Business Card Design, Brochures etc.
A common use of graphic design in the business world is developing items for print that uses your corporate identity to keep with your brands consistency. There are many different outlets for promoting your company through print and graphic design such as items you have for everyday use like business cards, letterhead and envelopes, for advertising purposes, such as magazine ads, billboards and brochures, or for marketing efforts such as mailed postcards, flyers and package design. At RI Web Gurus, we can facilitate all of your graphic design needs to get your company recognized in the Rhode Island and surrounding areas.
Graphic design for company promotion is a great resource to make your company stand out among your competition.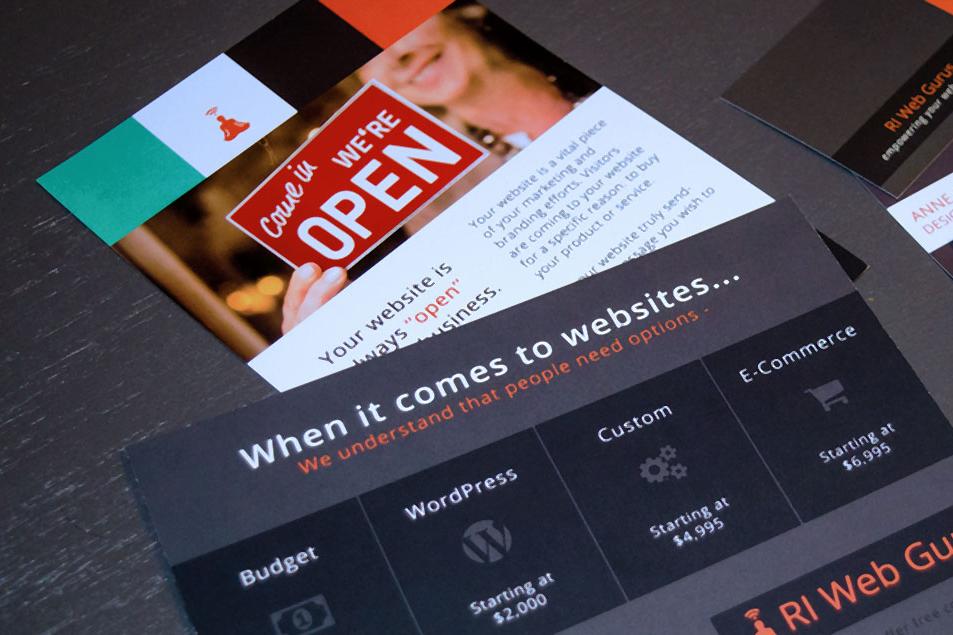 
Our Logo Design Process
As a leading graphic design company in the Rhode Island area, we focus on providing unique design pieces for any small business, corporate business or individual needs. Your graphic design material should be created in a way that appeals to your target audience. The use of colors, pictures and fonts should all be taken into consideration based upon whom you are marketing to. It is important too; to remember that your marketing efforts are usually a one shot deal. People pass judgments in the first few seconds of being presented by a piece of marketing material; you want their first impression to be a good one so that they will actually take the time to read more about your company or the specific message you are trying to relay.
Just as in anything associating to your brand, the material you create through graphic design is an influential extension of your business, and if done right, has the power to progress your company forward and create solid, effective results. At RI Web Gurus, we can facilitate all of your graphic and print design needs in a creative and professional way. Promoting your company via graphic design is an on-going process, by working one on one with us, we can help you devise an effective strategy for continuous marketing efforts which will keep you current and at the forefront of your customers minds.
Below is a list of some of the items we offer for graphic design:
Business Cards
Letterhead & Envelopes
Brochures
Signage
Direct Mail Postcards
Posters
Magazine Ads
Newsletters
Annual Reports
Promotional Flyers
Presentations
Billboards
Are You Ready?
Do you have a need for some print design? Contact us now to get in touch!