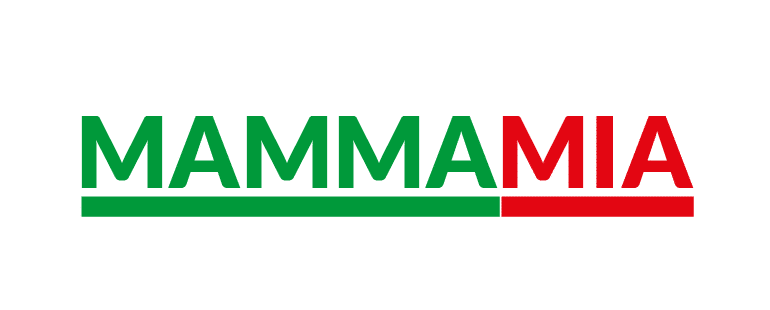 As part of our first year's celebrations, we gave away a free website last week. Today we would like to show you what they won.
The winners of the small business website was Frank and John from Italy! This Italian restaurant is a local favorite on main street. They have been in business for more than 50 years serving scrumptious pizzas as well as the delicious pizzeria classics we all enjoy. Be on the lookout as you may see a Guru or two in there picking up a chicken parm grinder for lunch.
There is such a thing as a Free Lunch!
Frank and John (F&J) were a bit hesitant to accept their prize as they do not have a website or any other online presence. Therefore, the challenge for the RI Web Gurus was to not only create a website in one week but to do so for a business that is brand new to the wonderful world of technology!
I would like to refer to Frank and John from Italy moving forward as FJ to save time and having to repeat it over and over.
So let's take a look at what we did for them
The Menu
F&J had been receiving some complaints from customers regarding the pricing of their orders. These customers saw a price online, would call and order their food and then would be quoted a different price. "I thought they had no online presence" you say…….Correct!
Some menu scraping websites had pulled their old prices and put them on the web. The result: customers calling up to complain that they had been overcharged.
The RI Web Gurus were able to provide F&J with an easy to update menu listing page with a menu builder module that allows them to easily update menu changes as well as create additional menus.
This way if F&J feel like whipping up a new delicious special or need to insert a holiday menu they can easily add it to the website on the fly, This way customers calling for pick up don't miss out!
---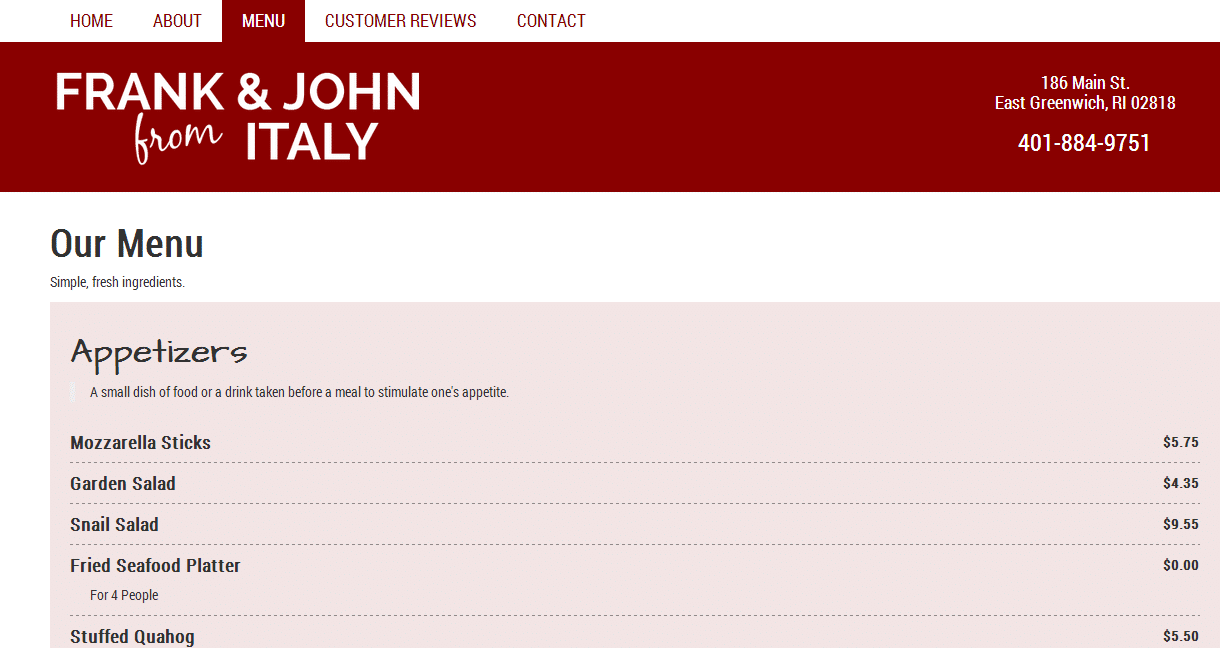 Custom Favicon
We created a favicon for the website, no self respecting website would be seen with out one these days, and F&J deserve nothing but the best! A Favicon is the small icon you can see at the top of a web page in the tabs browser usually top left… look now top left do you see ours?
You should see a little Guru in orange. This branding icon reminds customers of the value associated with a picture. So when you see the little red "FJ" on your browser tab be careful not to start drooling on your keyboard.
---
Home Page
The RI Web Gurus put together a simple text logo for the site and created a nice clean navigation. We purchased some stock photos and local photographer Mark "Sven" Oltedale offered to take some pictures after he heard about the giveaway.
Our goal was to keep the home page clean and simple. We wanted to make it easy for hungry viewers to quickly and easily access the important features such as hours of operation, contact number and last but certainly not least the mouth watering menu.

---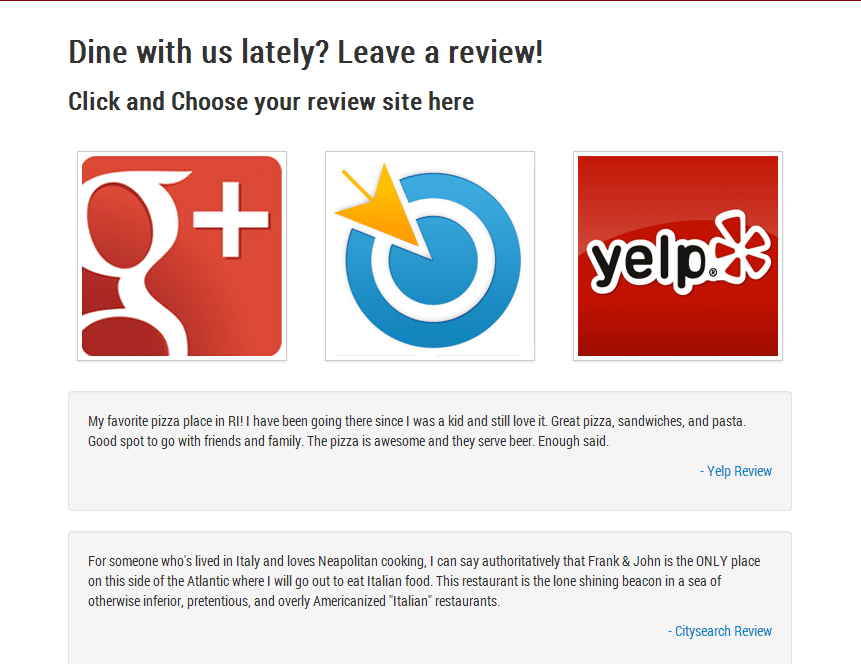 To Blog or not to Blog?
F&J are far too busy creating fabulous food to sit in front of a computer and blog about how fresh their homemade soups are made so we opted to make use of the current reviews we found online.
A testimonial page was created to provide customers with a place to leave reviews of F&J, and to check out some previous comments left on other social review websites like Yelp, Google+ and Local.
---
Google Maps
FJ now have handy embedded Google maps feature on the home page and contact page so customers can easily click for directions. One of the best features is available for smart phone users. Not only can they easily click for directions, but their GPS will guide their grumbling stomachs directly to a mouth watering Sliced Tomato & Basil pizza!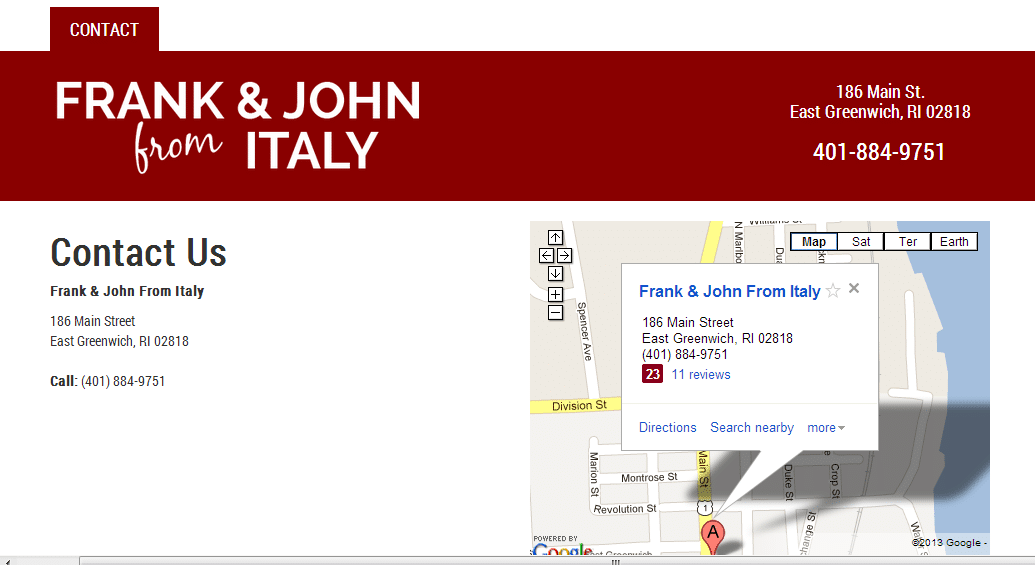 ---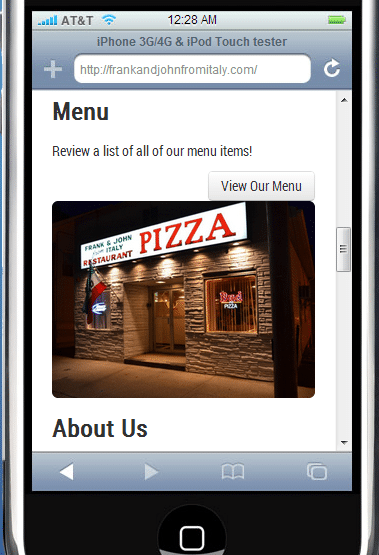 The Icing – Responsive Design
The best feature of this site is that it is responsive. This means that the website will respond to the different devices that it is accessed from. We have eliminated the need to pinch and drag the pages on mobile devices.
You can instead focus your effort on deciding between an Italian or Meatball grinder as the website will re-size to whichever device you access it from.
What are you waiting for? Log on to their site frankandjohnfromitaly.com now from your smart phone and satisfy your craving for something Italian! One tap is all it takes to give Frank & John a call!
The Skinny
The RI Web Gurus would love an opportunity to help satisfy your online business needs just as we did for Frank and John. We have a wide arrange of packages from a clean, simple, basic entry level design for as low as $1,500 to a full custom package. Please contact a Guru for a free consultation at (401) 203-5932 or click here to contact us by e-mail.