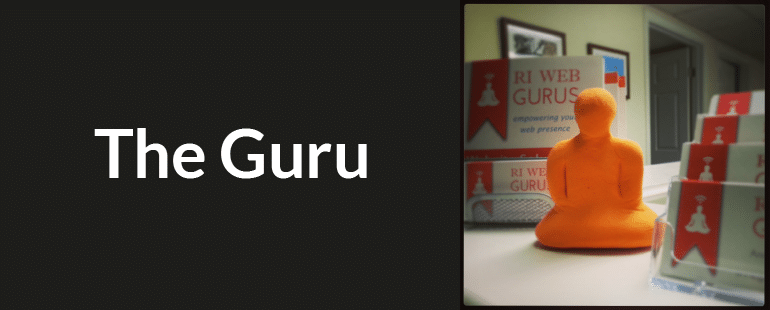 The RI Web Gurus are often out and about meeting with potential clients, networking, meeting up with members of our BNI WIN Group or out volunteering our time, and we've been looking for a fun way to share all of our adventures.
Hence, we created "The Guru."
Seeing that our brand is becoming well known, and most of our client's call us "The Gurus" anyhow, we thought it fitting to have a little guru guy to further represent our company.
This past week alone, I was on a boat, having dinner down at Simpatico in Jamestown, and a beer on the water at Nautika in East Greenwich (all work related!) and was kicking myself for not having the Guru to post on our whereabouts.
One of our BNI members today mentioned it was similar to the idea of "Flat Stanley," of which I had never heard of. The basic premise is to connect your child, student or classroom to others participating in the project by sending out "Flat Stanelys" and tracking their adventures. This is a great tool to learn about local traditions, scenery and cultures.
I found Flat Stanley to be very similar to our Guru in the sense that our goal with him is to further educate you about the type of people we do business with, show you some of our projects as they progress, and share with you our efforts of giving back to the community; all in a fun way!
So, if you haven't already, I invite you to "like" our RI Web Guru Facebook page and share in on the Guru Adventures! Then like, comment or share our posts!
Who knows, maybe it'll become a phenomenon?!
RI Web Gurus
Founding their website business in 2012, Anne and Craig are a unique blend of design and tech. Anne focuses on the aesthetic and ergonomics of your website, while Craig's expertise is in building the framework and overall functionality. This dynamic coupled with their everyday ideals and attentive customer service is what makes their business favorably reviewed and sought after.